Some people are not afraid to carry out bold experiments with their appearance, which causes a wide variety of reactions in society: some consider them crazy, and others admire their eccentricity.
Angelica Kenova
Russian model Anzhelika Kenova is a real Barbie doll: not only does she share facial features, but she still lives with her parents who won't let her date. To maintain her figure, she follows a strict diet and exercise program, exercising 2-3 hours a day, 5 days a week. It certainly helps: Angelica looks amazing considering the fact that she has never had plastic surgery.
Enigma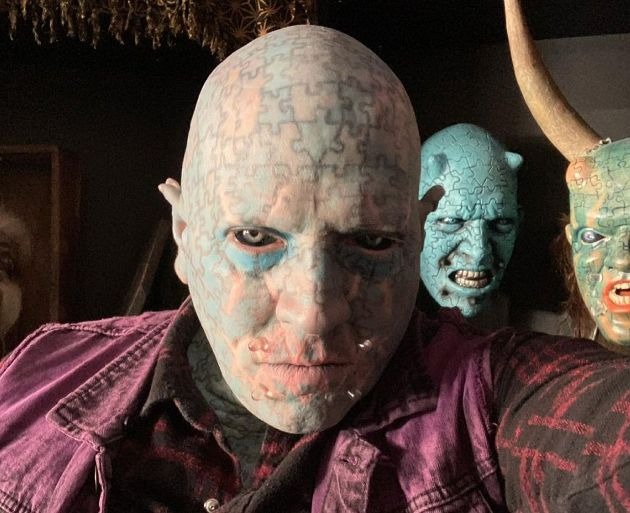 Enigma is a mysterious sword swallower who has turned his body into art. He got a huge jigsaw puzzle tattoo all over his body, including his face. The tattoo brought the guy fame: he starred in The X-Files and in the show Penn and Teller. But then again, it's his life and his body, and a little indifference to public opinion won't hurt anyone.
Grace Neutral
Grace has become known for her body modifications and one of her most unusual acquisitions is her blue eyeballs. This effect is achieved by injecting paint under the conjunctiva.
When asked why she does this to herself, Grace replies that she is examining her appearance. On the one hand, it looks interesting. But on the other hand, it is also somewhat scary.
Melinda Moon
Young Canadian Melinda Moon would like to be like an elf. However, she did not resort to great efforts and only made herself surgically pointed ears.
Melinda says that the children adore her and behave very well when she is around: they know what elves can tell Santa if they were naughty.
Monami Frost
This girl with countless tattoos is a famous model and vlogger from Latvia. She got her first tattoo at the age of 14, and since then they have become a part of her life.
Monami associates herself with the "straight edge" subculture, which means that she does not drink alcohol, does not smoke, and generally opposes addictive substances.
Andrey Bartenev
Andrey Bartenev is a Russian artist, fashion designer, and creator of interactive installations and performances. His work has been exhibited many times in major museums.
Andrei often chooses very unusual outfits. According to him, he dresses and lives according to his imagination. His appearance usually arouses friendly curiosity, but there have been cases of aggressive reactions.
All photos are taken from open sources.