Mukesh Ambani is the world's fourth and richest person in India and his lifestyle attracts a lot of people. His wife Neeta Ambani is the mistress of Reliance Industries and is often in the news for her luxurious life. Her hobbies are very expensive, which the ordinary person cannot even think about. Many reports on the Internet reveal her expensive hobby. Tell us tell you what are the 7 most expensive hobbies of Mukesh Ambani's wife and Reliance Industries' mistress Nita Ambani.
Drinks expensive tea worth of lakhs
A cup of tea of ​​a common man costs 10 to 15 rupees and rich people drink expensive tea more than a thousand rupees. However, knowing the price of Nita Ambani's tea can make you dizzy. Nita Ambani had told in an interview that she drinks tea in the cup of Noritake, Japan's oldest crockery brand. Noritake crockery comes in a set of 50 pieces. Its most special thing is that it has a gold border, which is worth 1.5 million rupees. In such a case, the price of a cup is 3 lakh rupees. Accordingly, the price of a cup of tea of ​​Nita Ambani was Rs 3 lakh.
Hobby of expensive handbags
Nita Ambani also loves stylish handbangs. Yes, it is a different matter that there are diamonds in her bags. Chanel, Goyard and Jimmy Choo Carey are present in Nita Ambani's collection. These are the handbags of the world's most expensive brands. Nita Ambani is often seen with Judith Lieber's Gannish Clutch. Diamonds are also studded on these small size clutches with an initial price of Rs 3-4 lakh.
Don't repeat the shoes again
Nita Ambani is also very fond shoes. Mrs. Ambani owns Pedro, Garcia, Jimmu Chu, Palomoda, Marlin brand shoes and sandals. All these brands start with millions of rupees. One more thing about Nita Ambani is that she never repeats her shoes.
Most expensive watch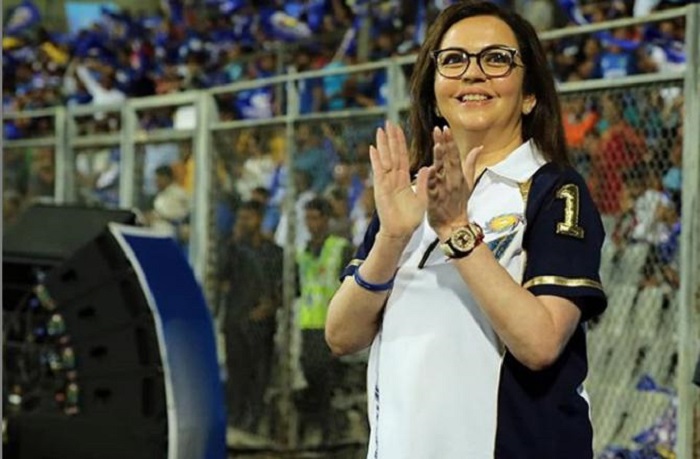 Brand watches like Bulgari, Cartier, Rado, Guchi, Calvin Kalin and Fossil are also always adorned on Nita Ambani's wrist. The price of watches of these brands starts from one and a half to two lakh rupees.
Sarees and jewelry
Nita Ambani is very fond of sarees and jewelery. Often Nita Ambani is seen wearing beautiful jewelry in the functions. Their price is in crores. On the other hand, the sarees that Nita wears are also worth crores. The saree she wore in her son's engagement cost around Rs 40 lakh.
Owns a private jet
Neeta Ambani also has her own private jet. The price of this jet is around 100 crores. This jet was gifted to her by her husband Mukesh Ambani in 2007. Facilities like Five Star Hotel are available inside this jet.
Also read Ramanand Sagar's Granddaughter Sakshi Chopra Can Be Seen In Bigg Boss 14