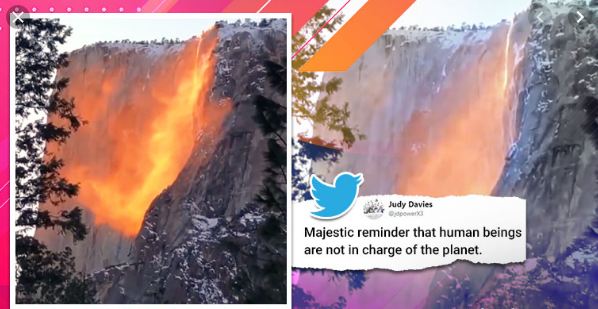 This Viral Firefall video is made in Yosemite National Park, California
According to officials, this is a simple waterfall, shared by a user on Sunday.
It happens twice a year, it starts to look like fire when the sun rises.
Viral Firefall video: In America, a video of 'Firefall' from a rock is going viral on social media. More than 3 million people have seen it in two days. It was shared on Twitter by @CaliaDomenico on Sunday. So anyone who saw this shocking video posed many questions in front of them, how is this happening? Is the fire really falling down from the rock? But the answer is no.
Watch Viral Firefall Video here:
It is a simple waterfall. The video was made by Domenico Kalia in Yosemite National Park, California and posted to his Twitter account.
It looks like this only two weeks a year
National Park officials said that this is the Horsetail fall of California. Twice every year in February it glows red and orange. This happens when the rays of the sun fall directly on it. Then it looks like a sparkling river of fire or lava, falling from a volcano. This waterfall falls 2000 feet below.
Also Read: Snow Car of Kashmiri Youth Went Viral: Says Wants The World to See