Prime Minister Narendra Modi recently asked students to advocate for khadi as a "fashion statement" at colleges and institutions. He said that students may host khadi fashion exhibits and promote traditional artisans' wares at campus cultural events.
However, according to shops that offer khadi clothing, Bengaluru's youth are a long way from embracing the fabric as their preferred style. This is mostly because the fabric is not widely known, and there aren't many unique patterns available.
"We do not really get any customers in the age group of 20-25 years as they have no idea what khadi is. They only come in if their parents come to buy something. We rarely see students during Independence Day or Republic Day. People who are above 30 years of age come to buy our towels, kerchiefs, and kurtas," averred Vijay belonging to Khadi India at Sahakar Nagar.  
A costly affair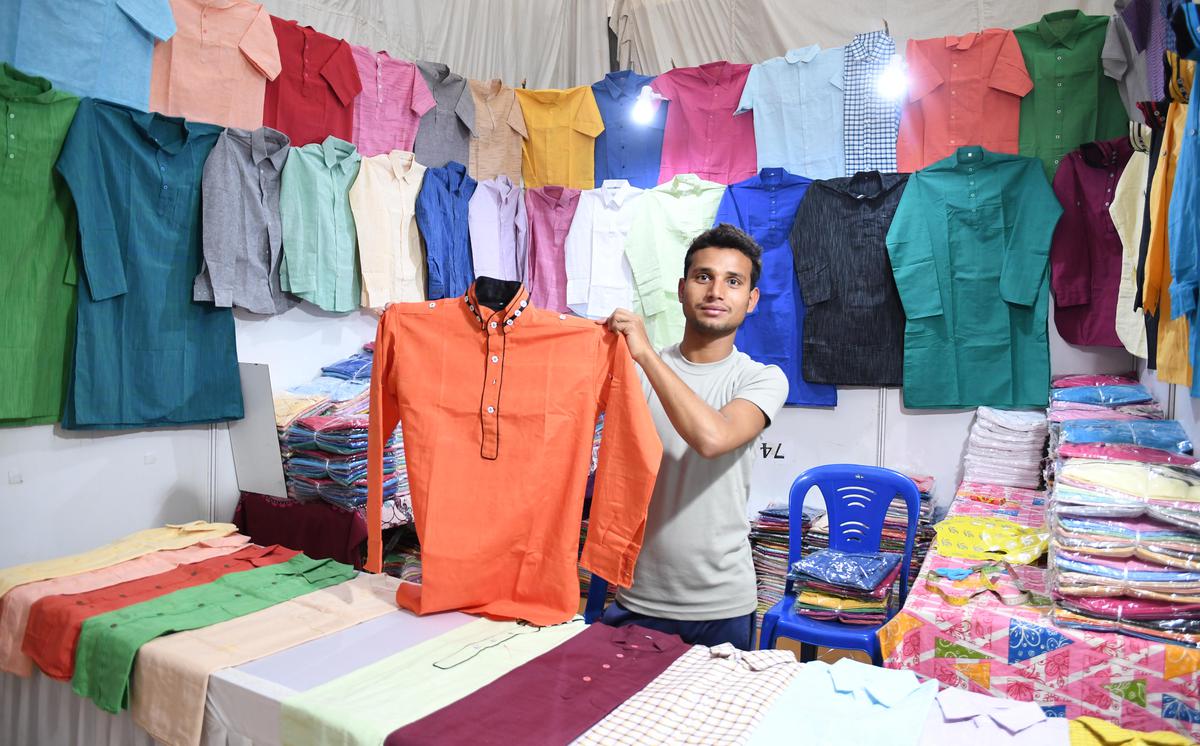 "Khadi clothes do carry a certain amount of elegance in them, but not everybody can afford them. On many online platforms, you can find cotton clothes for almost 50% cheaper prices. I only have three pieces of khadi in my collection, and one among them was a gift from my parents," added Nishika S., a 25-year-old from South Bengaluru. 
Mr. Vijay continued by saying that because khadi bears the reputation of being a "old brand," it is challenging to attract young consumers. While the clientele was a mix of young and elderly, according to a salesman from Khadi Bhandar in Vidyaranyapura, the majority of customers only requested short kurtas and long kurtas.
Starting afresh
Over 400 weavers and tailors participated in the two-and-a-half-year training programme that the Karnataka State Khadi and Village Industries Board organised with the National Institute of Fashion Technology (NIFT), Bengaluru, to shed this stigma. "If we give them more designs, youngsters will surely buy more Khadi products. In this regard, we had organised a Khadi branding programme with NIFT recently," stated H. R. Rajappa, CEO, Khadi Board.  
"The weavers and tailors who came were trained on sophisticated machines and were taught newer techniques especially when it comes to finishing as people often complain that finishing on khadi clothes is not good. With the help of students and faculty members at NIFT, we could design an entirely new collection," mentioned Yathindra Lakkanna, professor and director at NIFT Bengaluru. 
Fashion exploration
According to Mr. Lakkanna, a fashion show showcasing the fresh collection will be held under the name Khadi Mahotsav. He said that the Khadi and Village Industries Commission would be hosting an exhibition and sale at HSR Layout from October 2 to October 31 in addition to the event.
Students, especially those enrolled in grades 10 through 12, will be present during the fashion show to acquaint them with khadi, according to Mr. Lakkanna. He added that a number of essay and debate contests regarding khadi had been arranged for kids.
"People's expectations from clothes have changed. They want the best in designs, which will also provide them with confidence. They also want clothes that will reduce the carbon footprint on the planet. That is why we have brought aesthetic improvements to khadi. So far, khadi has been looked at through a philanthropic view. We are trying to show that it has its own strength and that customers would have to associate themselves with the strengths," Mr. Lakkanna added.