She often said that work was everything to Coco Chanel and that there was no time for love. However, the most recent biographies of her reveal a different face of this great designer.
The French woman had more romances than many movie stars. She dated painters, athletes, beautiful women, and even a German spy. One of these people stole her heart forever…
Reportedly, he first saw her at the Grand Café de Moulins, where the young Gabrielle Chanel tried her hand as a cabaret singer. The 23-year-old did not have an exceptional voice or a captivating beauty. Even so, this slim girl with a storm of black hair caught the attention of the men. It is not known how many lovers she had at the time. She often laughed that young bride were so easy to come by. She said that it was enough that the boy began to charm them properly.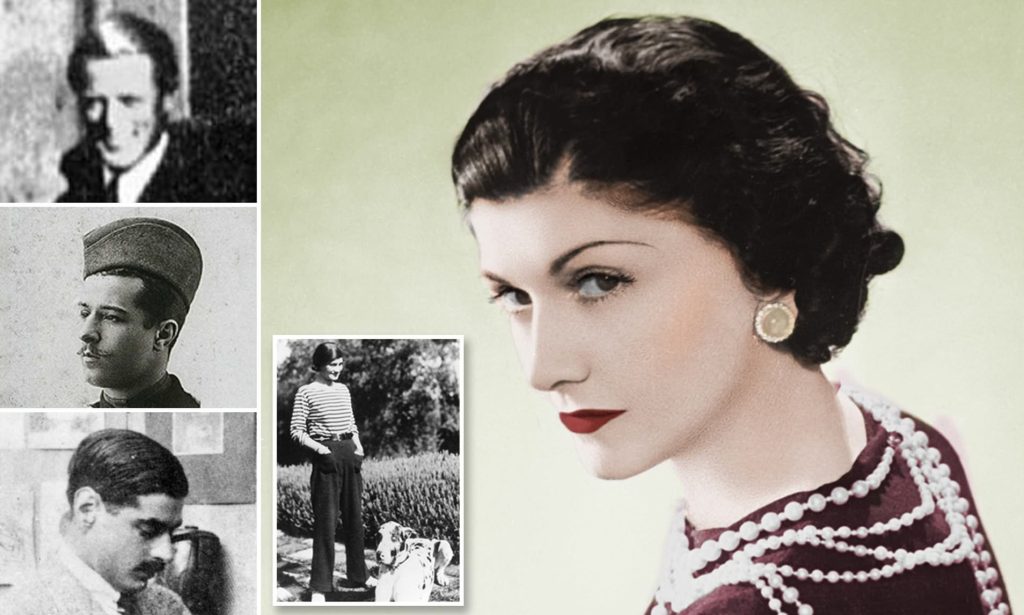 What is certain, however, is that her first serious partner was a wealthy young bachelor, Etienne Balsan, who fell in love with her at first sight.
I couldn't stop thinking about the charismatic French woman. Initially, Coco Chanel was enthusiastic about Etienne. However, she was more fascinated by the world he grew up in. Balsan was the son of wealthy tycoons who made a fortune investing in wool. It was a completely new reality for Gabrielle. A girl who came from a poor family and once lived in an orphanage wanted to get out of poverty. Étienne made her dreams come true. After a few weeks of knowing each other, she offered to live with him in a beautiful estate: the Royallieu castle in the Oise department.
How does Gabrielle remember that period? Like a fairy tale. Chanel had a ministry that still catered to her every whim. She read a lot and took notes. Étienne did everything possible to make his beloved's time pleasant. For days he taught her to ride a horse, which at that time was a very popular sport, which aristocrats liked. Perhaps, thanks to these lessons, the girl herself discovered her passion for breaking the boundaries of fashion? Instead of riding like all the other clothed women, Gabrielle went to a tailor and had him design a pair of pants, especially for her.
Lisa Chaney, the author of the book about the designer «Coco Chanel. Intimate life", wrote that her stay in the castle was an important catalyst for her destiny. Gabrielle learned what true luxury meant and fell in love with it. Unfortunately, after three years with Étienne, she realized that she, after all, did not love him. She twice rejected Balsan's proposal. At one point, she realized that Étienne was treating her more like a kept woman than a partner. She didn't allow Chanel to work.
When Chanel told a French woman that she wanted to open a hat shop, Balsan laughed at her. It was only after many fights that he agreed to financially support Gabrielle and provided her with her shop in Paris at 160 Boulevard Malesherbes. It was there that the first boutique signed under the Chanel name was opened. However, Gabrielle finally broke up with Etienne in 1909. Exactly one year later she met a rich playboy and polo fan in the small town of Pau, in the foothills of the Pyrenees. Arthur Capel, his name was. He was the greatest love of her life.
Coco Chanel, You only live once
It all started very innocently. While staying with her friends in this quaint, hilly town, the surroundings of which were said to be the perfect spot for fox hunting to furlough in the fashion industry, Gabrielle met the exceedingly handsome, gallant, and eloquent Arthur. Capel was a well-known and respected cyclist, and he too owned many interests in shipping and in the Newcastle mines. When she arrived at one of the parties that were held in the luxurious castle, Chanel went crazy for him. They talked a lot with each other. Arthur saw in this woman, not only extraordinary beauty but also a bright character. He was intrigued by the fact that Capela was extremely interested in his passion for fashion.
Biographers do not know how many intimate encounters arose between them. In her journals, Gabrielle wrote that Arthur was not only her lover but also "father, brother, family". She believed that it was not really Étienne who molded her, despite showing her luxurious life, but Arthur. Of course, the relationship between Gabrielle and the rich man was not idyllic. They both had explosive tempers. From time to time there was a fight between them. Gabrielle remembered one of them in particular.
One afternoon they were walking through the streets of Paris. They laughed and talked. They wanted to go to dinner at one of the trendy restaurants. The designer kept telling her partner how happy she was, that her hat business was doing great and that she had so much money. Arthur, instead of congratulating her partner, told her that he was actually the one who fully financed her boutique and paid money to the bank, which she then withdraws, thinking it was her income. Capel did it only out of the kindness of her heart. He did not want her beloved to collapse on a small income at the beginning of her business career. Chanel admitted years later that this conversation was like shock therapy for her. She realized that thanks to the comfortable life she had lived with Arthur, she was not strong enough to start the business on her own. The next day, she walked into her shop and told the head seamstress that the fun was over from now on. She started the real work. A few years later, Gabrielle, now known to the world as Coco, had good fortune and gave Arthur the money he had invested in her.
Despite the great love between Chanel and Capel, the lovers parted after nine years of relationship. Capel married British aristocrat Diana Wyndham in 1918. He decided that while Coco kept her heart on fire for her business, he should choose a woman like Diana as his wife. modest and submissive Chanel was very upset about her breakup with her partner. Apparently, he was still thinking about her too. And who knows, maybe in the future her paths would cross again? Unfortunately, in 1919, Arthur died in a car accident. Nothing has been the same since then.
Coco Chanel's weakness for the Russians
Coco for a long time could not forget her feelings for Capel. She couldn't deal with the loss of someone so close to her. To forget about the loss of Arthur, Coco began having affairs with many men. The list of her lovers was long and surprising. The designer, of course, was interested in meeting only eminent men. Chanel, as her biographers believe, was a great fascination for the Russian composer Igor Stravinsky.
Little is known about his affair, but witnesses have admitted that they saw the artist many times when he went to see his lover in her apartment at the Ritz Hotel in Paris, where Coco Chanel lived. The musician completely lost his head for the designer, which had a positive effect on his work. During a brief but very passionate affair with Coco, he managed to finish "Symphony for Wind Instruments" (1920) in homage to Claude Debussy. It is considered one of the most important compositions of the time.
The sophisticated designer, however, could not be faithful to just one man. After her affair with Stravinsky, she fell into the arms of another handsome Russian: Prince Dmitri Pavlovich. The couple met in 1921 in Paris. Coco revived with him and began to enjoy life. Stravinsky was very possessive. Pawłowicz, for his part, did not forbid anything or make any demands on him.
The relationship with the prince did not end with serious statements. Coco quickly found another man worthy of attention. She became interested in Picasso. She "she was overwhelmed with passion for him.
The most intense of all these "frivolous" relationships for the artist at the time was with Picasso's friend, the poet Pierre Reverdy. The couple started dating around 1922. They didn't seem to fit together. She – a refined lady. He, was a dark creator who hated the elite. With him, however, Coco felt herself. She did not have to hide her origin, they were connected by a difficult childhood. Reverdy left his wife Henrietta for Chanel. For the first time since the death of Arthur Capel, the designer fully trusted a man. Unfortunately, however, this relationship did not end with the wedding. After almost two years of romance, the poet left the beloved woman. He returned to Henrietta, who was always faithful to her and lived with her in a little house next to the Benedictine abbey of Solesmes.
Coco Chanel, sleeping with the spy
What happened next? Coco, after she failed relationship with Reverdy, as well as after the death of her lover Arthur, broke up. She promised herself that she would never open up to any man again. Most of her later relationships were heavily based on the game. The list of lovers was joined in the following years, among others: Pierre Wertheimer, co-owner of the then-largest cosmetics company in France, Les Parfumeries Bourjois, the Italian director Luchino Visconti, the famous surrealist Salvador Dali, and the sculptor Apel les Fenosa. .
Although Chanel was reluctant to admit it, she also occasionally had affairs with women. Unofficially, the designer is said to have briefly met Princess Antoinette d'Harcourt. As well as the writer Jacqueline Susann (late 1950s).
The most moving, however, is the creator's mysterious relationship with a wealthy German officer, Hans Günther von Dinklage. In the 1940s, they were united by a great passion. Chanel was 58 at the time and her new partner was only 45. Biographers of the designer have been wondering for years who the mystery man really was.
Von Dincklage has faced many things in his life. In the 1920s he became associated with a clothing manufacturer, ten years later he became the cultural attaché at the German embassy in Paris, traveled the world on missions commissioned by the Hitler government, and also worked as a journalist. In 1935, he published in Paris the book "Brown Grid", which was to warn the West against German spies. The Dincklage name was also on the list. Was Hans Günther really a Nazi and Coco knew it? Or maybe he acted on behalf of Hitler? In 2011, Hal Vaughan's book "Sleeping with the Enemy" was published in the United States, showing that Chanel was also a spy. She had the number F-7124 and the code name "Westminster". What was the truth? Did von Dincklage involve his beloved in her secret activity? we'll probably never find out.
It is only known that the lovers were dating for many years. The officer disappeared from Coco's life in the early 1950s. He went to one of the Spanish islands and engaged in erotic painting. Chanel was then 70 years old. She was completely alone. Most of her former friends and lovers had died. Still, she felt happy. On the day of her death, January 10, 1971, she returned with her assistant to the Ritz Hotel. She was not in a good mood. However, when she passed by Plac Zgody, where there was a famous fight between the designer and the love of her life Arthur Capel, which took place many years ago, she smiled, looked at the sky, and whispered that she was greeting the moon. It was evident that although it had been more than half a century since the separation from her beloved, she still carried him in her heart.