Model Demi Rose is surely an internet sensation courtesy her bold photoshoots on Instagram. She was selected as the most promising girl in the UK in 2014. She often posts photos on Instagram , is known for her body curves and bulky forms, and her Instagram account is over 9.2 million fans.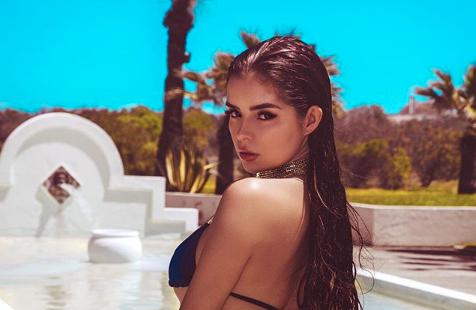 She grabbed all attention after the model was romantically linked to Tyga, Kylie Jenner's ex. She is an inspiration for many budding models.
Talking about her fitness, Demi once said,
"I try to keep as healthy as I can. With travelling, it's hard to work out, I travel across the world but try to keep my routine… Everyone says I'm the healthiest person they know. The fattiest thing I will ever eat is nuts and peanut butter."

Demi Rose
She keeps flooding social media with her bold pictures. One of the top models, Demi is quite popular on social media with more than 10 million followers on Instagram.
Facts About Demi Rose :
She's British and was born in Birmingham.
Her birthday is 27th March 1995.
Demi started with MySpace – didn't we all? Wonder what happened to MySpace Tom!? She then traded in MySpace for Instagram around 10 and after posting some seductive selfies, watched her followers grow from 60,000 to 200,000 to the millions where she now has an impressive 4 million followers and counting.
She found fame after posting some selfies on social media where she rapidly gained quite the following.
Demi actually studied and completed a course in health and beauty and shortly after, left the UK and headed for the US to pursue a career in modeling and aspired to be a lingerie model. I mean, have you seen her body?! Wow!
She was the cover girl for SIXTY6's Magazine in December 2016 and looked gorgeous. Her personal trainer makes sure her curvaceous body stays in tiptop shape.
Demi has also appeared in music videos with DJ Khaled and Chris Brown.
Photo Gallery Demi Rose