You may have heard it from someone or read it somewhere on the internet or other places that 58% of the employees at the National Aeronautics and Space Administration (NASA) are Indian. It is a part of a longer message according to which CEOs of several top companies in the world are Indian. Here's a tweet:
This message went viral on social media. However, now according to the latest survey, this claim that 58 per cent of the employees at NASA are Indians, is false. On the official site of NASA, one can find relevant information about it. The Data and Analytics Unit of NASA suggests that there are only 8% of Asian Americans (which includes Indians) or Pacific Islander which are the part of the total workforce at the agency. Here's a bar graph,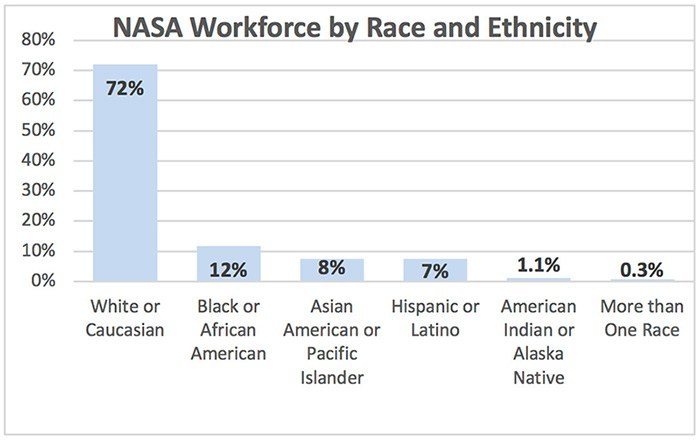 The website states, "NASA employs nearly 17,000 people with diverse backgrounds. Seventy-two percent of NASA employees are White or Caucasian, 12 percent are Black or African American, 7 percent are Asian American or Pacific Islander, 8 percent or Hispanic or Latino; 1 percent are American Indian or Alaska Native, and less than 1 percent are more than one race."
NASA Model Equal Employment Opportunity Agency Plan and Accomplishment Report state that there was an increase from 4.5% in 1996 to 7.4% in 2016 in the Asian American or Pacific Islander (AAPI). However, this data is way far away from 58%. And to let you know, 'Asian American' refers to several Asian ethnicities and not only Indian. Hence the claim is false.

Apart from that, the other CEOs that are listed in the viral message are of Indian origin, and not Indian citizens. For example, the CEO of Google Sundar Pichai is an American citizen, CEO of Nokia Rajeev Suri is from Singapore, Adobe's CEO Shantanu Narayen is an American citizen, Microsoft's CEO Satya Nadella is also an American citizen.