President of Ukraine Volodymyr Zelensky is constantly in contact with the public. Sometime back he got emotional in a video in which he said that first me and then my family will be targeted! The discussion of his family has started after the video. You will know about who is in the family of President Zelensky in this article.
Ukraine's President Volodymyr Zelensky Bio
Russian army has attacked Ukraine, due to which many people have lost their lives. Ukraine's President Volodymyr Zelensk looks helpless and fights against the Russian army. He said that he would fight till his last breath. Videos of President Zelensky are coming out continuously. Recently, a video message of President Volodymyr Zelensky has surfaced, in which he looks helpless and emotional while talking about his wife and children. Zelensky said that I am the first target of Russia and my family is second.
President Zelensky is very active on social media, he keeps sharing photos of himself and family from time to time. Since his statement on the family, the question must be coming in the minds of many people that who is in the family of President Zelensky. If you are also one of those people who want to know about the family of President of Ukraine, then read on!
Volodymyr Zelensky career
According to the report , the life and career of 44-year-old Ukrainian Volodymyr Zelensky was difficult compared to other leaders. He has faced many crises since taking over. President Zelensky graduated from the Kiev National Economic University in 2000 with a law degree. 
He was very fond of comedy, so he formed the comedy group 'Quartal 95' in 1997 with some other actors and then after that group started doing shows in 2003. After this he did a show that impressed him a lot and formed a political party after being influenced by it. After this, in 2018, Zelensky stepped into politics and announced his candidacy for the presidency under the 'Servant of the People Party'. After this, when the elections were held, he won, getting more than 73 percent of the votes.
Wife of Ukraine's President Volodymyr Zelensky
The name of the first lady of Ukraine and the wife of Ukrainian President Volodymyr Zelensky is Olena Volodymyrivna Zelenska. Olena is a Ukrainian architect, screenwriter. In December 2019, Zelenska was ranked 30th in the list of 100 Most Influential Ukrainians by Focus Magazine.
Olena Zelenska and President Volodymyr were married in 2003. According to reports , Olena has been an alumnus of Krivi Rih National University and also holds a degree in civil engineering. Although Olena did not do as much work in the engineering and architect fields as she has done in screenwriting. Olena is also a social worker, on many occasions she has been seen doing social work. He did many things even during the Corona epidemic.
Children of Ukraine's President Volodymyr Zelensky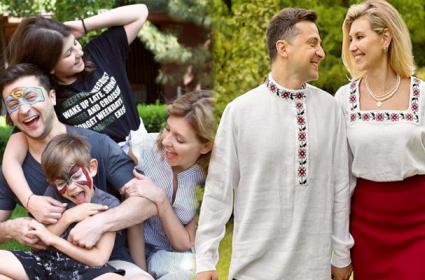 Ukrainian President Volodymyr Zelensky and his wife Olena have two children. They have one son and one daughter. His daughter's name is Oleksandra and son's name is Kyrylo.