Bollywood stars are more in discussion about their personal life than their films. What they wear, what they say, what they eat, whom they fight and who they love, all these things fans want to know about their star. Fans are very interested in knowing which contrast is in their life. Not only this, sometimes some controversies are in front of the public always remain in the discussion. One such controversy was with some Bollywood stars when they got a slap in front of everyone. This includes names of many stars.
Gauhar Khan
There are millions of fans of TV and Bollywood actress Gauhar Khan's beauty, but she also have an old connection with controversies. This incident with Gauhar Khan happened while she was walking the ramp. At that time, suddenly a man came on stage and slapped her. When questioned about that, he said that Gauhar Khan did not wear clothes according to Islam. Her clothes were very short, so he gave a slap to Gauhar.
Emraan Hashmi
Bollywood serial Kisser Emraan Hashmi may romance on screen, but in real life, he only loves his wife. However, at one event, his wife gave him a slap. In an interview, Emraan Hashmi revealed that once his wife was angry with him and slapped him at a public place. Imran said that his wife Parveen is very positive about him.
Sushant Singh Rajput
Bollywood's late actor Sushant Singh Rajput was once a boyfriend of Ankita Lokhande. In 2013, Ankita and Sushant lived in live-in relationship. The love of both was on on peak. However, once Ankita was angry with Sushant and slapped Sushant in front of everyone in a nightclub. It was not revealed till date what was the matter between them.
Karan Singh Grover
Karan Singh Grover, the most heartfelt actor of the TV world, Bipasha Basu's husband today, but he used to be Jennifer's husband at some time. He made a lot of headlines about his married life and divorce news. An anecdote of Karan's life became very famous when his second wife Jennifer Winget publicly slapped him. Nobody is aware of what was the fight between the two.
Subhash Kapoor
Director Subhash Kapoor, who directed films like Jolly LLB, has also got slapped by actress Geetika Kapoor. The video of this slap scandal also went viral on social media. It was seen in the video that Geetika slapped director Subhash Kapoor in front of wife Dimple Kharbanda. At that time, the actress accused Subhash Kapoor of abusing her sexually.
Aryan Vaid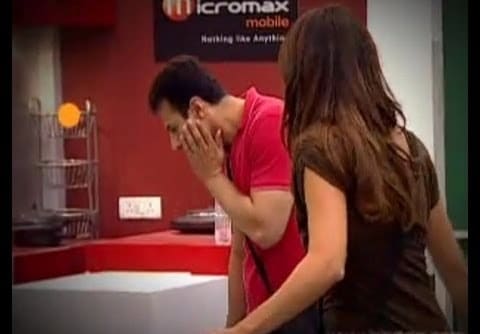 Famous artist Aryan Vaid has also slapped by his wife. It is said that his angry wife reached the set while Aryan was shooting. Both of them had a fight with someone earlier. In such a situation, his wife Alexandria did not look at the shooting nor somewhere else and slapped Aryan in front of everyone.
Also read 3 Big Mistakes Of Govinda Which Made Him A Zero From A Hero