India had to battle their way to 240 all out as Australia was spot on both in the field and with the ball. India's Rohit Sharma stated that his team would have batted first even if Australia's skipper Pat Cummins had won the toss and elected to bowl first. As usual, Rohit got off to a blistering start, but Shubman Gill, who had an incredible record in Ahmedabad across all formats, was knocked out early by Mitchell Starc. Virat Kohli entered the game with all guns blazing, but three runs short of his half-century, Travis Head made a sensational catch, and Rohit fell to Glenn Maxwell shortly after.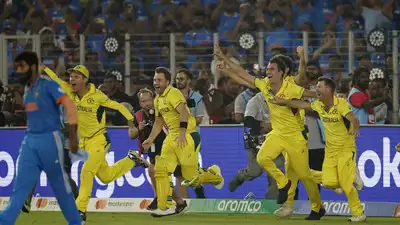 With Mohammed Shami taking the new ball rather than Mohammed Siraj, Team India got off to a strong defensive start. David Warner was dismissed with the second ball of Shami's first over. Mitchell Marsh was then removed from the game by Jasprit Bumrah.
Opener Travis Head struck a magnificent century to spearhead Australia's comeback after a wobbly start, while Marnus Labuschagne patiently scored 57 off 109 balls. Australia defeated Rohit and Co. by six wickets thanks to the second-highest run stand in the World Cup final, prolonging their trophy drought in the ICC competitions. Superstar Head's historic 137-run knock earned him the title of Player of the Match.
Highlights of India vs Australia World Cup 2023 final:
Australia elected to bowl first after winning the toss.
As usual, Rohit got off to a fast start, while Shubman Gill fell short quickly.
After Virat Kohli came out swinging, Australia responded with a bang, taking the wickets of Rohit and the highly effective Shreyas Iyer.
KL and Kohli After struggling to break free, Rahul ultimately fell to Pat Cummins, despite the former scoring another fifty runs.
Rahul scored a half-century, but Ravindra Jadeja was dismissed at the other end.
Additionally, Suryakumar Yadav was unable to produce a strong finish.
Kuldeep Yadav and Mohammed Siraj led India to a score of 240.
David Warner was dismissed by Shami with the second delivery of the game, after Bumrah had given up 15 runs in the opening over.
Bumrah grabbed two more, dismissing Steve Smith and Mitchell Marsh within the opening ten overs.
Australia reached 185/3 in 33.5 overs thanks to a stunning comeback from Travis Head, who hit a century off 95 balls.
In the 40th over, Marnus Labuschagne reaches his eleventh half-century in 99 balls.
Head's 137-run innings helped Australia defeat India by six wickets in 43 overs.