Today we are going to tell you about one such princess of Ayodhya who married the prince of Korea. Very few people know about this princess of the city of Ayodhya. The Queen's name was Suriratna and after marrying the Prince of Korea, she changed her name to Hyo Hwang-oak. According to the history of Korea, Princess Suriratna, 2000 years before, went to the town of Kimhye in Gyeongsang province, South Korea, and married the prince.
Her marriage in the Chinese documents Samaguk Yusa, written in Chinese, says that God had came into the dream the father of the princess of Ayodhya and told that he should marry his daughter to King Kim Soo-ro. and sent her to Kimyeh city along with his brother.
According to the history of Korea, arter coming here Princess Suriratna met King Kim Soo-ro. After which she married King Kim Soo-ro and became a queen here. After marrying, she was named Heo Hwang-oak. King Kim Soo-ro was the founder of the ancient Korean state factor. At the same time they had a total of 12 children from this marriage. Which belonged to the Karka gotra.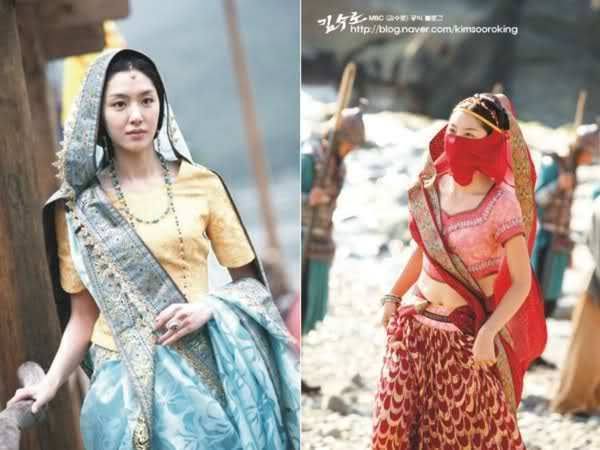 Today, about six million people of the Karkot tribe in Korea claim themselves to be descendants of King Kim Soo-ro and the Princess of Ayodhya. It is also believed that former South Korean President Kim Dae Jung and former Prime Ministers Hyo Jeong and Jong Pil-kim also belong to the Karka tribe.
There is also a large statue of Queen Heo Hwang-oak in the town of Kimhye. Apart from South Korea, a statue of the princess has also been made in Ayodhya. This statue is on the banks of river Saryu in Ayodhya.
The princess died in South Korea and her grave is built at this place. To build her grave, stones were brought from Ayodhya and these were placed on the grave. Every year, a group of people of the Karkar tribe comes to Ayodhya, the princess's motherland, in the month of February-March and pay tribute to her.
In 2018, Kim Jong-suk, wife of South Korean President Moon Jae-in, visited India. During that time she also visited the Queen's memorial and paid tribute to the Queen.
Also read Emraan Hashmi's Sister Is A Bollywood's Top Actress