News of Nestle company's Maggi brand selling Beef flavor in India is hovering around the internet for many days. People are sharing a picture of Maggi's beef-flavored packet on social media. Now, this is provoking people that such a company should be boycotted in the name of Gomata.
Now there is a fact check by ALTNEWS that proves this wrong. In their investigation, it was found that the packet of Maggi with beef flavor is going viral, is not from India but from Australia.
Facebook page 'Jain News', sharing a photo of Maggie's packet with beef flavor. They wrote ' They started putting beef flavor in Maggi. I boycott Maggie from today, please you too who gives the cow to the status of mother Let's boycott Maggi.
Twitter is also running hashtags 'Respect Gaumata, boycott Maggie' etc.
What is the real Truth?
The claim being made in social media is false. We checked all of Maggi's flavors on the company's website and found that Nestle does not sell Maggi with beef flavor in India. However, this type of Maggi is sold in Australia. To confirm this, when we searched Maggie Beef Flavor in Google, we found Maggie's Australian website.
A user asked when Maggi with Beef Flavors will be launched in India, then the company replied that it is the page of Maggi available in Australia.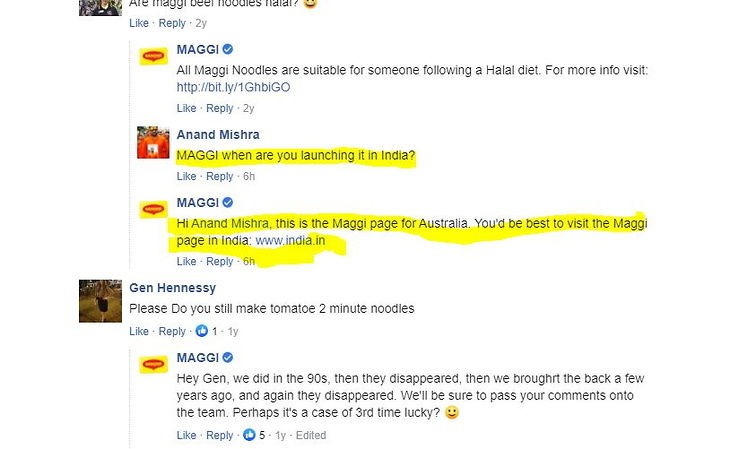 On Maggi's Indian official page on Facebook, there is information about the products by Maggi. This also does not mention beef flavor anywhere.
Now, this is clear that the photo being viral in the name of Beef Maggi is not from India. Sources in the company have also stated that Maggi does not sell any such product in India. This product is sold abroad and someone badass has picked it up from the site and made it viral on social media in India, which is completely fake in the context of India.
Also read, Italian People Under Lockdown Are Filling Empty Streets With Music