The most high-profile stellar trial came to an end: the jury ruled in favor of Johnny Depp and found Amber Heard guilty of defamation. In honor of the finale of the dramatic trial, which was watched by the whole world, we decided to remember how their painful romance developed, in which one loved, and the other allowed herself to be loved.
In 2010, when this story began, Amber Heard was 24 years old. For 2 years now she has been living in civil marriage with a woman photographer Tasya Van Ree, but the actress decided to come out only in December 2010, at the GLAAD Celebrates 25 Years Of LGBT party. "I am who I am, and I don't want to hide it, because they hide what is ashamed, but I'm not ashamed that I love a woman," Amber said then. Same-sex marriages at that time had not yet been legalized in California, where both lived, however, as it now turns out, Amber managed to secretly marry Tasya, and she even changed her last name, becoming "Amber Van Ree" according to the documents.
Hollywood star Johnny Depp was 46 in 2010, he had been in an actual marriage with Vanessa Paradis for 12 years, with whom he raised his daughter and son together. Despite the outward fragility and vulnerability, Vanessa managed to gently guide Johnny's life. She managed to convince him to give up bad habits and lead a relatively healthy lifestyle. According to the Frenchwoman, Depp was a wonderful father and gentle husband. Perhaps something happened that happens when everything around is too good and right, there is the same woman who directs your life for many years, and you are already 46: Johnny got bored.
They met on the set of The Rum Diary. And, probably, this is the only thing that is now remembered about not the best film in Depp's career. "When I first saw Amber, it seemed to me that Lauren Bacall was in front of me, the star of the golden era of Hollywood," Depp later recalled in an interview with Globe magazine. The actor has fallen in love with film partners before, but rarely brought these hobbies to something really serious. But not at this time.
Contrary to the popular version, their romance did not begin on the set of The Rum Diary, but after. Until mid-October 2011, Amber willingly went to all social events in the company of her lover, Tasi van Rey, posed for photographers with her. At the world premiere of The Rum Diary on October 13, 2011 in Los Angeles, Amber and Depp were never even next to each other. At the same time, Amber was spinning around Aaron Eckhart all evening (quite an option for an actress who wants to break into the Hollywood A-list). A week later, in New York, she still managed to be close to Johnny Depp, but there was still no "chemistry" in those protocol photos.
The rapprochement occurred during the promotional tour of The Rum Diary. The pictures from the premieres in London, Paris clearly show how the bodily distance between Heard and Depp was shortened. Amber did everything to charm him. And obviously well prepared. Johnny was sure he had found a kindred spirit. "We have a lot in common, but most of all, I was hooked by the fact that she is a passionate fan of the blues. I played some old blues song, and she recognized it, "admired Depp said. Vanessa, good old Vanessa faded against this background, like a wax candle against a 100-watt light bulb.
Whether this obsession was mutual is hard to say. Did a young B-list bisexual actress fall in love with a 47-year-old top-list actor? Or did she decide that chance gave her a one in a million chance? Amber has always been adventurous. How else to succeed a girl from Texas who came to conquer Hollywood without money, with a small bag that could fit all her things?
In June 2012, Johnny Depp's spokesman confirmed what everyone already knew: Depp and Paradis were separating after 14 years of de facto marriage. At almost the same time, Hurd amicably broke up with Tasia van Ree. But do not think that from this moment on, Johnny and Amber come together and begin to build a relationship. It's just that Amber's relationship was not needed: the experience of her rival Vanessa clearly showed that Depp could live quietly with a woman for a dozen years, and then get up and go to another. Only marriage could guarantee a comfortable life.
In a word, as soon as Johnny made a choice in favor of Amber, she behaved like a real manipulator, more precisely, like a woman who understood her worth and decided to try to raise the stakes even more. A month later, in July 2012, Hurd decided that she needed to take time out and figure out what she wanted from her relationship with Johnny. A romantic by nature, Depp did everything for her to return for the first time.
And already in January 2013, Hurd again left her "Mad Hatter" and drove off to Paris to the French bisexual model Marie de Villepin. This new relationship lasted several months, until April 2013. To get the girl back for the second time, Johnny had to seriously start overspending. He recreated a bar on his island in the Bahamas, an exact copy of the bar from the movie The Rum Diary, named the beach after Amber, took her to the most expensive restaurants and other establishments on both sides of the ocean. In order to consolidate the effect, in December 2013 (on Catholic Christmas), Depp gave his beloved platinum earrings and a diamond pendant with a total value of about 50 thousand dollars. It became obvious that Amber is close to the goal: such gifts are not given just to mistresses…
The actress got her way: she showed Johnny that, being free from marriage, she could disappear from his life at any moment. If you want to tie a girl to you, marry her. And Johnny did exactly what she expected of him: offered her a hand and a heart. In January 2014, an engagement ring appeared on Amber's "same" finger.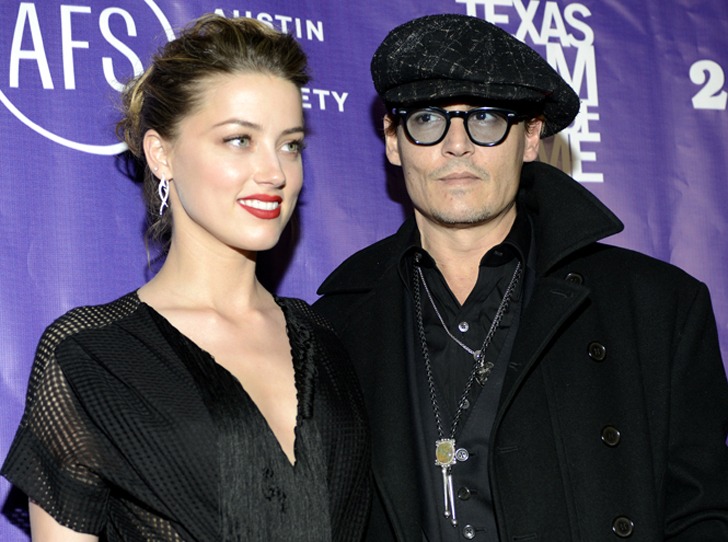 They say that Johnny's friends were not happy with this news. Like, even usually stingy on comments, Angelina Jolie mentioned that the relationship with Hurd is evidence of a midlife crisis and that if you really want to marry this girl, then you should at least draw up a marriage contract. Whether Jolie really said something like that or is it an invention of journalists, is not known. But the idea itself was worthy of attention. However, Depp did not heed the advice of the press, considering the marriage contract humiliating for the great love that so overwhelmed him.
2014 passed under the flag of the upcoming wedding of Depp and Heard. Amber behaved like an exemplary bride, visited the groom on the set, smiled and kissed him in public, Joni continued to overspend, but the X hour still did not come. The problem was Johnny's seriously ill mother, who really wanted to attend her son's wedding. And Amber yearned for romance. In the end, they nevertheless found a compromise: the marriage was registered on February 3, 2015 in their house in Los Angeles, where Johnny moved his mother, and the celebration took place in the Bahamas – on an island owned by the actor, already without a mother, but with the children of Johnny and Vanessa, who, for the sake of their father, agreed to communicate with his new chosen one.
Immediately after the wedding, the relationship in a couple miraculously began to change. Amber's career went uphill: Mrs. Johnny Depp appeared in 2015 on the covers of several glossy magazines around the world at once, the filming schedule became tight, she was even offered the main role … Meanwhile, the ubiquitous journalists, meanwhile, published information that Johnny, after the wedding, again began to lay behind the collar, several times disrupted the shooting of "Pirates of the Caribbean". In addition, several new films with Johnny failed at the box office. The actor began to look worse, gained extra weight, which obviously did not decorate him. Amber got everything from life. After the wedding, she became even more demanding and, according to friends, often threatened to leave if something was not right. "She can easily spend 25 thousand dollars in one month and Johnny will not tell her anything, because he is terribly afraid of losing her, "the media quoted the actor's friends as saying. True, only a year later, these same friends will dare to tell Depp that his wife has been manipulating him for a long time and treating him like "shit." About how Depp tried to please her, says the story of his yacht "Vanessa", which the actor first renamed, and then had to sell, so as not to anger his wife.
At the end of the summer of 2015, Amber began to communicate too actively with photographer and artist Yo Tillett Wright. Yo is a man who changed sex in order to become a woman. Rumors spread that Hurd took up her old ways and restores her bisexual (more precisely, lesbian) connections. But this was not the main problem for Johnny. Amber started to play: she introduced her stepdaughter, Depp's daughter, to Yo. This acquaintance ended with the fact that 16-year-old Lily-Rose took part in the Yo project, which supports the LGBT community, and declared herself "not one hundred percent heterosexual." Some time later, when headlines like "Johnny Depp's daughter came out, admitting to being a lesbian (at worst, bisexual") appeared in all the media, Lily-Rose justified herself: "I was misunderstood." After this incident, Depp's children no longer communicated with Amber. Just in case.
The fall of 2015 and most of the winter of 2016 was quite calm for the couple. They shone a lot together at premieres and other events and looked quite pleased with each other. It is all the more surprising that in her statement to the court, made on May 27, Amber will later write: 15 months of marriage with Johnny were a nightmare, but the last six months were especially terrible when the actress was physically abused by him three times. "I was seriously scared for my life in December 2015," Amber will tell the judge and get Johnny banned from approaching her closer than a few meters.
The last time they appeared together was on February 15, 2016, at the Grammy Awards. This is if you do not read the joint visit to the Australian court on April 18th. The fact is that almost a year before, Amber came to Johnny to shoot in Australia, taking with her two pocket dogs – Yorkshire terriers – and forgetting to present the animals at customs veterinary control. In Australia, this is very strict. When the story was revealed, a criminal case was opened against Amber. As a result, she escaped with a large fine and a public apology. Johnny also got it, he was also forced to apologize for complicity in his wife's crime. Their joint statement on the matter can still be found on Youtube.
Amber celebrated her birthday on April 22, 2016 with her friends. A month later, the actress filed for divorce, indicating the amount that she agreed to receive from Johnny every month as alimony – 50 thousand dollars, that is, 2 times more than he gave her "for pins." Not bad, considering the marriage itself only lasted 15 months. But we must pay tribute to Amber – she did a tremendous job and now she was counting on a good reward. It will not work – in your pocket there would always be such a trump card as "domestic violence". If there was enough acting talent, of course. And since Johnny is also a good actor, after this "love story" we were waiting for a no less exciting and dramatic production about divorce.
After unsuccessful attempts to pose as a victim, Amber abandoned the idea of ​​alimony and agreed to a lump sum payment of several million dollars. The actress said that she would give this money to charity, every cent. Depp, with his characteristic sense of humor, transferred all this money to the fund, which Hurd hinted at, and sent her a receipt as proof that he had fulfilled his obligations to her. It's hard to say what Amber's reaction was, but… an attempt to reclaim this amount has already failed. And then another target was waiting for the actress: Elon Musk.
However, the affair with the inventor of Tesla, as you know, did not last long – unlike the litigation with Depp, which continues to this day. Sometime after the end of the divorce proceedings, Johnny would come to his senses, desperately trying to cope with his demons and get his life back together. And, despite the skeptical forecasts of the press, he succeeded.
At the 2019 Venice Film Festival, photographers captured Depp in amazement, who seemed to have thrown off a couple of decades. The actor rather and quite friendly smiled at the camera lenses – it was hard to imagine that behind such calmness there was another round of the judicial history of the movie star and his ex-wife. Johnny returned not only to the red carpet and cinema screens but also to the courtroom (in the person of his representatives). In March 2019, Depp sued Amber in order to restore his reputation and at the same time receive compensation for his damaged career – for a moment, the required amount is $ 50 million, and, obviously, if the court decision is positive for Depp, the actor's former lover will not be able to pay it.
Amber Heard plans to appeal verdict after losing in Johnny Depp's defamation lawsuit: Reports