38 years old Kourtney Kardashian made her younger sister the 19 years old Kylie Jenner super jealous in this new sneak peek of the May 14 episode of Keeping Up With the Kardashians. The episode features the recent nude photo shoot of the Kourtney in Costa Rica in which she got totally nude. 
It was a poolside photo shoot where her photographer Mike Rosenthal, snapped away during the carefree afternoon which was full of fun and laughs by Kourtney and her sisters Kylie, Kim Kardashian and Khloe Kardashian. The group gave very hot and impressive poses. Meanwhile, her hairstylist Jen Atkin said "Kourt, you are giving life right now!" when Kourtney whipped her very long wet locks around.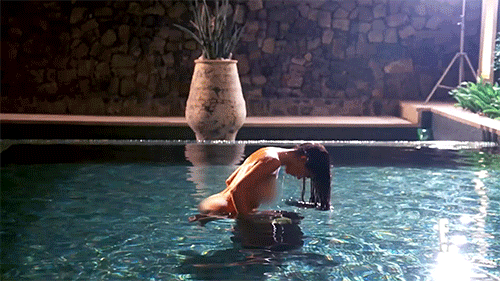 Khloe tells her big sister in a confessional, commenting on how she went under a body transformation after the birth of her second child.
 "I did think, like, she's gone. Now, she's YOLO-ing it up, f**king bomb ass body, naked in the pool and your sisters should be afraid of you." 
While Kourt is splashing around, Kylie said,
"What the f**k!" the lip kit mogul says while viewing the shot. "I want to get in. I'm so jealous!"
NOW YOU CAN GET THE LATEST BUZZ ON YOUR PHONE! DOWNLOAD THE PAGALPARROT MOBILE APP FOR ANDROID