Sonam Kapoor has always been into the limelight if not for hit films then definitely for her dressing style and her fashion sense. We can definitely know some major styling tips from her to become more attractive and beautiful. She is the one who always spreads fire! She is a true fashion icon, so let us also try to become one!
Have you ever thought of wearing a pant style saree? If not then take the tips from Sonam and try it! This fusion looks absolutely stunning!
What about Kashmiri Kadhai over beige or white base? This is how it looks! We can also team up our grandma's jewellery of pearls or kundans to give a royal look! Don't forget to team up your entire dress with a slightly darker shade dupatta! It adds to the colourful charm.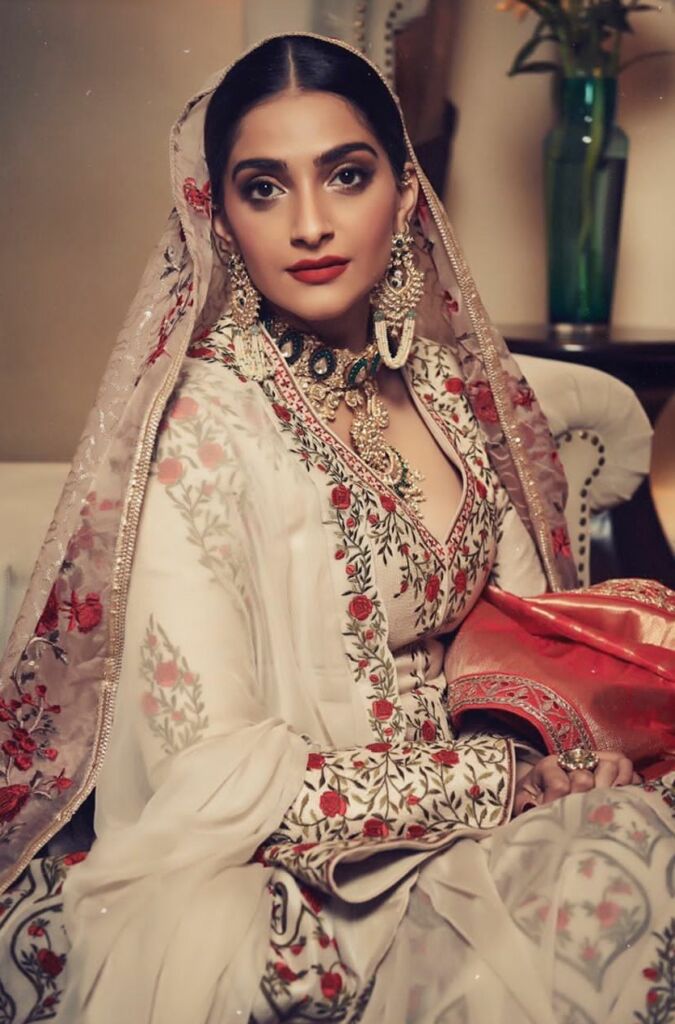 Burgundy and Violet must have not gone so well before! We can also go for this color combination. Another highlight of the dress is the pattern of sleeves. Moreover, the belt in the middle completes the look.
She looks like a royal Egyptian queen! We can also try for such shade of gold for a long dress and team it up with a gold neckpiece. Rather than leaving the hair loose with a big and wide neck piece, this braided hairstyle looks much better! We can definitely try this.
This is a perfect idea of formal plus informal dress up! If you feel like going for a formal meeting but boring black and blue isn't your personality type then definitely try this! First of all, the pattern from the waist makes it stylish and next, the colour of the blazer wins the hearts! It's not a poking green rather a subtle shade of green which is always in the trend.
This is a great example of ethnicity meeting western roads! The blouse pattern along with the pleted ghaghra seems perfect. But what grabs the attention is the print on the fabric which includes Hindi words and names. The Silver Jhumkas are definitely working as a cherry on the cake.
Polka Dots in appropriate sizes work wonders! Size of the Polka Dots can either make you trendy or can ruin your look! Look at this dress. Usually either upper or lower is supposed to be in contrast but this looks absolutely stunning as an all over dress. Matching hoops with a sling bag are adding to the charm! Also, don't forget to find this shade of lipstick if it suits you!
We might have seen such printed sarees in abundance. Such patterns have been really very old but have we ever thought of wearing such sarees with a twist? No! Sonam here makes the old sarees look extremely modern by wearing a super hot blouse. The arm style of the blouse deserves a thumbs up! Moreover, teaming up silver jewellery with it is a sane decision.
If you love to experiment, then do not shy away from trying such heavy patterned dresses. It is a jacket worn over a saree. The jewellery is equally traditional adding to the heaviness of the entire look. Patch work or thread work if loved by you can be tried in this way! Also, the eye make up and lipstick completes the look so never forget these two!
Red and White definitely go with each other. So next time, if you wanna dress up in a saree, do not step back from choosing big blocks or grand patterns on sarees. These too look amazing! Adding minimal sized jewellery to it and a bun with roses shall complete the look.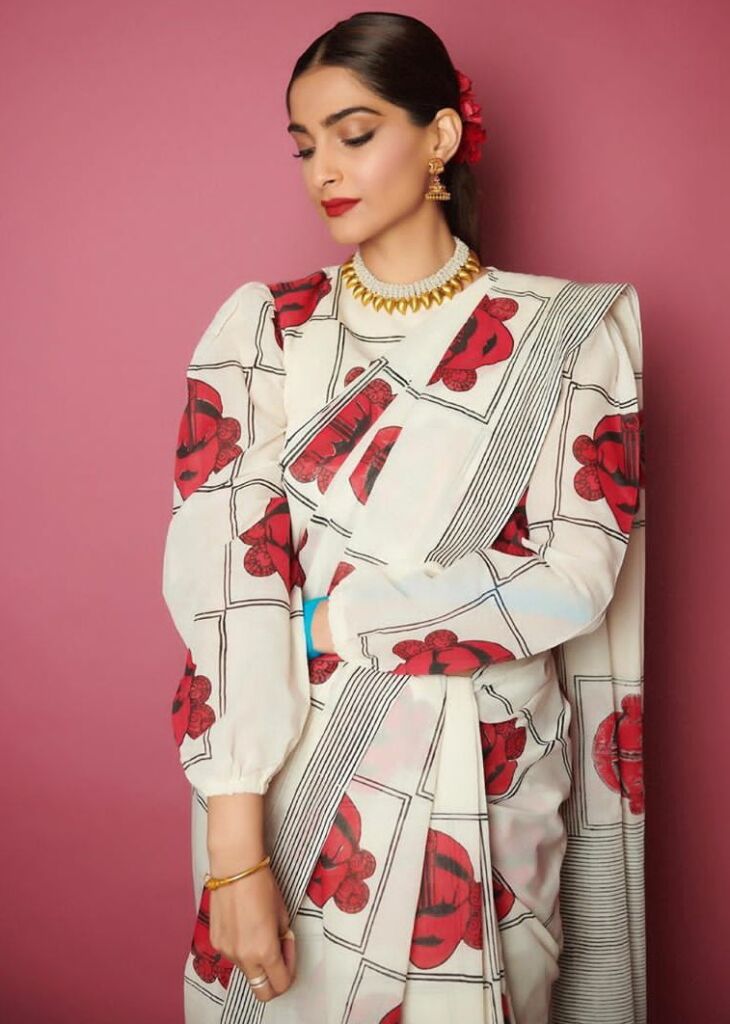 Never tried a saree with a jacket? Why not get your blouse stiched in the form of a jacket? This is something new these days but looks stunning. We can always try with either the same fabric or choose a contrast color as well!
Hopefully we will try some of the tips from Sonam Kapoor in our lives to become more stylish and more trendy. After all, who can stop us from becoming fashion icons? If she can be the one, we can also occupy a place in the list! So, friends good luck! Try these ideas and flaunt your beauty!