The whole world is full of strange and exciting things. There are many people in the world who are known for their amazing things. Like someone is tallest, someone has big nails and someone is famous all over the world because of their long hair, but do you know who is the longest legged girl in the world?
Actually, Russia's Yekaterina Lisina holds the world record for the longest-legged girl in the world. Not only this, Yekaterina's name has two records in the Guinness Book.
29-year-old Yekaterina is a model by profession. She has also been given the title of world's tallest model. Yekaterina's height is 6 feet 9 inches. The length of her left leg is 132.8 cm, and the length of the right leg is 132.2 cm.
You would be surprised to know that Yekaterina Lisina belongs to a family in which everyone is tall. Her brother's height is 6 feet 6 inches, father's height is 6 feet 5 inches and mother's height is 6 feet 1 inch.
Lisina also has to face problems at times due to her length. She find it very difficult to sit in a plane or car. Apart from this, neither pants nor shoes are available for her size. She has to make shoes separately for themselves. 
Yekaterina previously played basketball. Playing for the Russian national team, she won a bronze medal for Russia at the 2008 Beijing Olympics.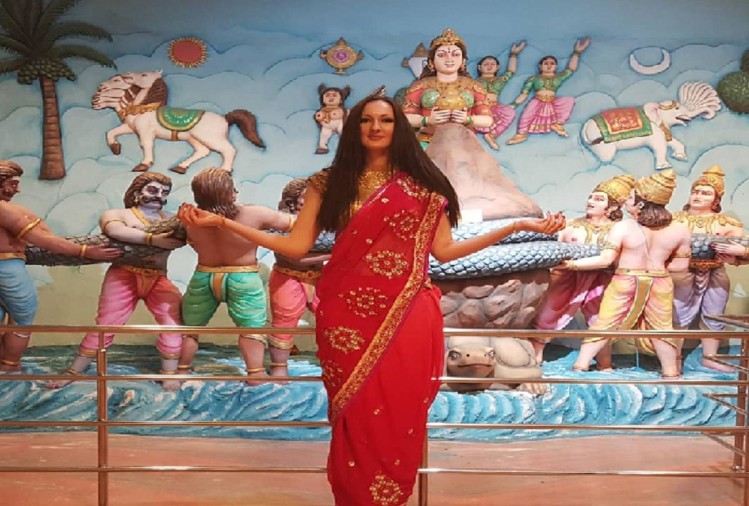 You will also be surprised to know that Yekaterina follows Hinduism. A few years ago, she had converted to religion and became an ardent devotee of Mata Lakshmi. Since then she stopped eating meat. She meditates on the goddess every day.