If you live in a big city where there is a metro, then you have at least once been in this underground labyrinth, because this is one of the fastest ways to get to your destination and the best way to avoid traffic jams. But sometimes, these metros not only serve the purpose of traveling but at the same hand are the perfect example of magical and worthy works of architectural art. So if you are still unaware of it. Let's have a look at some of the most beautiful metro stations that will leave you spellbound.
Slavyansky Boulevard station Russia
The Slavyansky Boulevard station on the Arbatsko-Pokrovskaya line has been serving the Fili-Davydkovo area since 2008.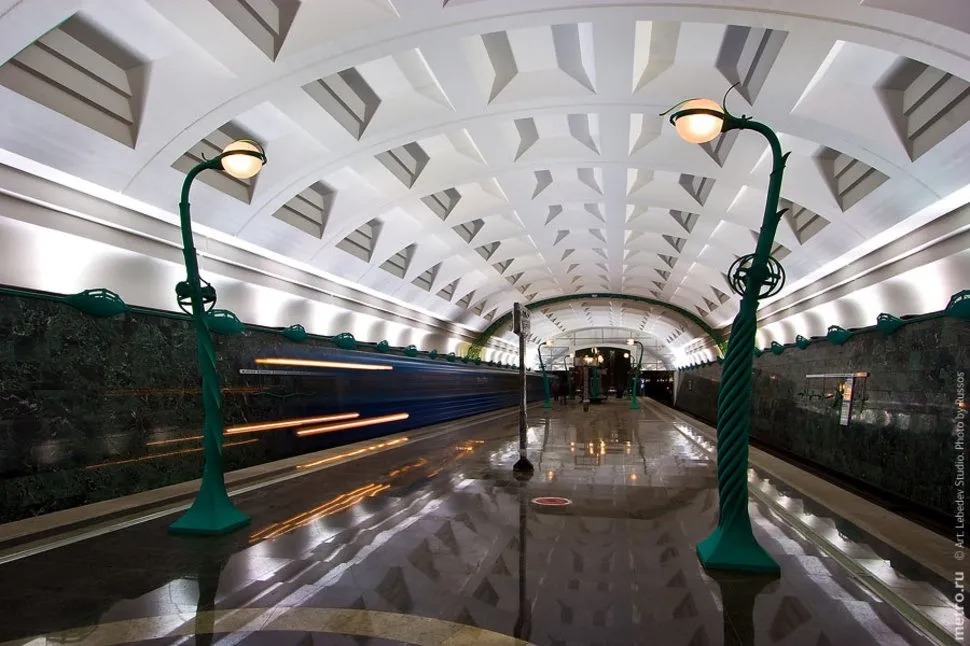 Komsomolskaya metro station
The Komsomolskaya metro station in Moscow is decorated with incredibly beautiful mosaics depicting the main moments in the history of Russia since the 13th century. One can also witness beautiful Chandeliers hanging around. And that looks incredible.
Burjuman mall subway station
Under the Burjuman mall is a subway station that only opened in 2009, but more than 15 million people have already passed through it. And is one of the most beautiful stations.
Toledo on Line 1 metro station
One of the most beautiful metro stations in the world – Toledo on Line 1 – perfectly meets all the requirements of the Art of Stations project: beautiful, functional and capable of inspiring urban renewal and development.
Bund Sightseeing Tunnel, Shanghai, China
This tunnel in Shanghai looks more like a driveway to Charlie's chocolate factory than a subway tunnel. What a incredible work of art. That so many of us can't imagine.
Formosa Boulevard Station, Taiwan
Opened during the 2008 city renovation ahead of the World Games, Boulevard Formosa station is best known for its Dome of Light, "the world's largest glass mosaic."
Barcelona's Drassanes station Spain
In 2007, Barcelona's Drassanes station underwent a notable renovation and now resembles the scenery for a sci-fi movie. It is one of the stations closest to the Mediterranean.
Sanki-Petersburg, the Kirovsky Zavod Russia
One of the oldest stations in Sanki-Petersburg, the Kirovsky Zavod, is located on the Kirovsko-Vyborgskaya line.
Solna station in Stockholm
Solna station in Stockholm is one of the most famous in the world, thanks in large part to the jokers on the Internet who called it "Hell".
Namur station Montreal
Namur Station opened in 1984 after Montreal renamed the street on which it was built to keep the station's name. The main local attraction is a huge geometric sculpture by Pierre Granchet from Quebec.
Also, read Lil Nas X faces accusations of sculpting Cellophane song of FKA Twigs in his new video