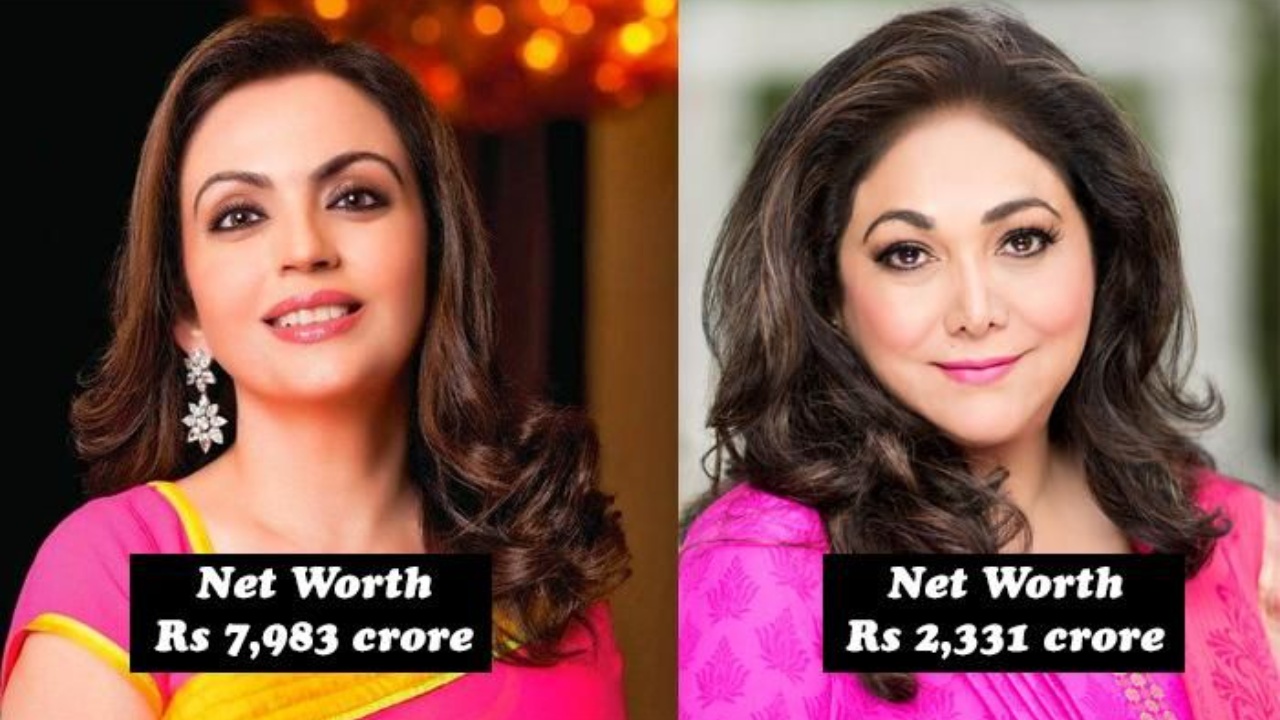 There are many billionaires living in India. These wealthy people have achieved that level of success on their own, due to which they have wealth, fame and everything. Well everyone knows them, but you will know little about the women who are behind their success.
Today we are going to tell you about the wives of billionaires of the country. As beautiful as they look, they are also intelligent. By the way, few people would know that the wives of these billionaires work for the betterment of the society as well as being beautiful. Let us tell you about them and give information about their total assets.
Nita Ambani
Mukesh Ambani, chairman of Reliance Industries, is the richest person in the country. His wife's name is Nita Ambani. Nita Ambani is 57 years old but apart from being very beautiful, she is also ahead in philanthropy. Nita is the president of Reliance Foundation and helps the poor and needy people through this foundation. Nita's net worth is 21000 crores.
Tina Ambani
Anil Ambani also comes in the list of billionaires of the country. He is the chairman of Reliance Group. His wife's name is Tina Ambani, who has also been a successful heroine before. Tina is also very forward in philanthropy. She runs Dhirubai Kokilaben Ambani Hospital. Along with this, she is the president of Harmony for Silver Foundation. Through this she helps people. Tina's total assets are said to be Rs 2331 crore.
Kiran Nadar
Talking about Kiran Nadar, she is the wife of Shiv Nadar, the owner of HCL company. Kiran is a trustee of Shiv Nadar Foundation and is very much involved in the work of philanthropy. 70-year-old Kiran's net worth is Rs 25,100 crore and she is very rich among billionaire's wives.
Sudha Murthy
Infosys Chairman Narayan Murthy's wife's name is Sudha Murthy. She started her career in computer science and is today the chairperson of the Infosys Foundation. She is also a member of the Gates Foundation. They also help people. Talking about her total assets, he has 2480 crores.
Monica Burman
You must know about Dabur Company. The owner of this company is Vivek Burman and his wife's name is Monica Burman. Monica's net worth is Rs 2260 crore.
Yasmin Premji
The name of the wife of Wipro Group owner Azim Premji is Yasmin Premji. Yasmin does charity work through the Azim Premji Foundation. Her total assets are Rs 1,14,400 crore.
Natasha Poonawala
Natasha Poonawalla is married to billionaire Adar Poonawalla. Adar is the owner of Serum Institute company and both were married in the year 2006. Natasha's net worth is Rs 660 crore.