Actress Payal Rohatgi has shared a video in which she spoke about the suspension of the twitter account for no reason.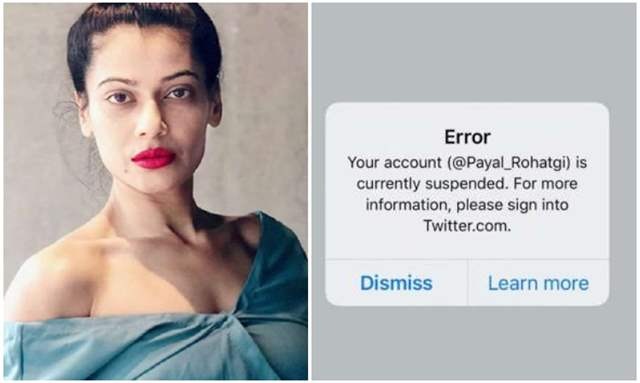 Actress Payal Rohatgi is often discussed due to her statements. But currently, Payal is in the news due to her Twitter account. It is being told that her account was suspended on Wednesday morning for violating the rules of the microblogging site. Sharing a video on her Instagram she has told that her Twitter account has been suspended. She further revealed that there was no intimation before suspending the twitter account. According to her neither there was any information nor any mail on her official id.
In the video, Payal Said that no reason has been given or an e-mail has been sent on my account. She requested netizens saying. I don't understand the reason behind deleting my account. She further said that I never use abusive language on social media, neither I point out someone. I just shares facts with the people. Speaking further she said, "Shouldn't we have a platform where we can express my views freely?" Because this is our birthright. I don't know who is behind suspending my Twitter, but whatever is there, they cannot suppress my voice. I will not come back on Twitter unless I am given my own verified Twitter account '. While sharing the video, Payal wrote in the caption, 'I want Twitter to be suspended from India'.
Soon after she shared the video her fans got furious about it. Hashtags with #BringBackPayal and #payalrohatgi are trending on Twitter. People are demanding to restore Payal's Twitter. Well, let us tell you that this is the second time when her account got suspended. Earlier her account was suspended for a week in June.
Also read Sania Mirza Said To Her Husband 'I would like to marry Akshay Kumar'