Today the entire world is troubled by the havoc of the Corona epidemic. This virus has given a tremendous blow to the country's economy. In such a situation, a considerable amount of money is needed to fight this pandemic and the conditions arising from it. This is the reason why many people came forward to donate during the Corona period. From big celebrities to the general public, everyone donated openly. Somewhere the children broke the piggy bank and somewhere the women donated their savings. Meanwhile, today we are going to tell you about a Baba who begs for money but still he deposited thousands of rupees in the COVID19 Relief Fund.
Meet this man, he is Poolpandiyan, who live in Madurai, Tamil Nadu. Poolpandian is a beggar and has recently donated Rs 90,000 to the Covid 19 Fund. This is a huge amount for a beggar. Poolpandiyan is also an elderly person, he could have saved this money for himself, but he donated such a large amount to fight this pandemic. Don't believe? Have a look:
During a conversation with the news agency ANI, the Poolpandiyan said that "he is very happy to donate this money. One reason for this is that the District Collector has given him the title of philanthropist for doing this noble cause."
Let me tell you that this is not the first time that a Poolpandiyan has been begging and has donated money. Earlier in the month of May too, he donated 10 thousand rupees to the state government. While making this donation, he said that earlier I was going to donate this money to the Education Fund, but Corona is a big issue in the country right now, so I donated this money to it.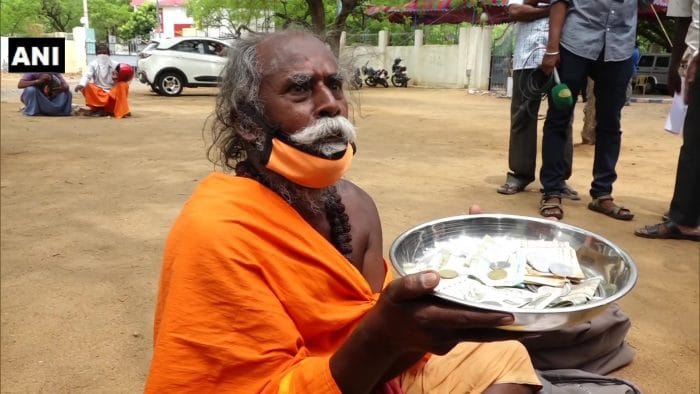 Poolpandiyan sit outside a temple in Madurai begging. When people came to know about this on social media, they were very happy. Everyone started praising Poolpandian.
Also read Akshay Kumar To Be Seen In 'Man vs Wild' After PM Modi And Rajinikanth