She was innocent, she was young, she didn't know about the harsh realities of the world. We are talking about Shilpa Shetty and her worst experience about love. In the year 2007, during the TV reality show, Big Brother Shilpa confessed something very shocking.
When asked by a fellow contestant on Big Brother, Shilpa revealed that she had lost her virginity to her first boyfriend at the age of 22. According to the reports, her then-boyfriend was none other than the superstar of the Bollywood, Akshay Kumar. Yes, you read it right!
Shilpa Shetty's first ever sexual encounter was with actor Akshay Kumar after they met on the sets of Main Khiladi Tu Anari and started dating. Akshay confessed to a friend,
"She made me hold off for years before she would let me sleep with her – but it was worth the wait. She may never have even kissed a man before – the first time we did it was so special, romantic and passionate. It was truly unforgettable."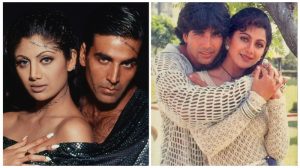 The tall and beautiful Shilpa Shetty thought that she found her true love in Akshay Kumar. A friend of Akshay Kumar leaked the story of how Shilpa Shetty was a virgin before she had a relationship with him. The friend said,
"Akki told us that Shilpa was very innocent when they met. She had never kissed a guy and insisted on taking things quite slowly. She loved holding hands and romantic gestures. It came to a point when she felt that she could trust Akshay with everything. When Shilpa decided that Akshay was the man for her, she gave away her virginity to him. She would never have slept with a man if it didn't come across as serious. After that, she wanted to spend more and more time with Akki."
The friend goes on to say that Shilpa disheartened to the core when she came to know that Akshay Kumar cheated on her with Twinkle Khanna, who was at that time, her best friend.
Akshay did wrong to Shilpa. But he was also young and perhaps was not mature to understand what's right or wrong. The good thing is both have moved on with their lives and living a happy married life with their partners.