On the 13th day after the death of Sushant Singh Rajput's demise. His family has given a big official statement. Here's what the statement says. Read below.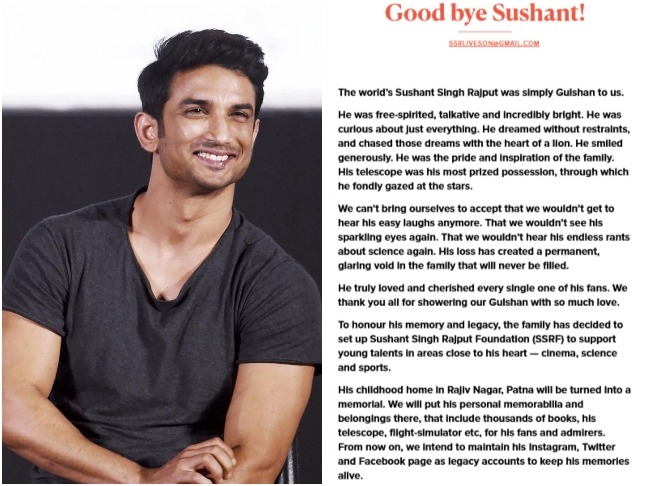 It has been 13 days since Sushant Singh Rajput left the world. Sushant Singh Rajput's family and his fans are still not able to recover from this shock and the fact that he is no more. Meanwhile, now his family has released a statement to his fans.  
The statement reads, The Sushant Singh Rajput who was for the world was our beloved Gulshan for us. He was an independent, talkative, and very intelligent boy. And was interested in everything. He had many dreams and he chased it with the heart of a lion."He was the pride and inspiration of our family. His telescope was his favorite thing with which he used to see the stars. We are still not sure that we will never be able to hear his laughter now. His shining eyes will not be able to see and will never hear his never-ending talk about science. His departure has spread emptiness in our family, which will never end.
SSR Foundation to support young talents in the field of cinema, science, and sports
Giving the official Statement To honor his memories and legacy, the family is building the Sushant Singh Rajput Foundation (SSRF). That perhaps will support the young talent who is interested in Science, Cinema and Sports. Also, his house in Patna's Rajiv Nagar will be converted into a memorial. We will keep his personal items here, which will contain thousands of his books, telescopes, flight simulators, and other things. This will keep fans and well-wishers connected to him.
At the end of the statement, it has been told that all the social media accounts of Sushant will now be handled by his family. Through this, his memories and legacy will be kept fresh. The family has thanked all the fans for their love and support.
Everyone knows that Sushant Singh Rajput committed suicide, by hanging himself at his Bandra house on 14th June. However the reason for his death is still unknown. It is hard to believe for his fans and friends that he has committed suicide and therefore the investigations are still going, to know the actual reason behind his death.
Also, read Shah Rukh Khan Mannat Balcony Turns Into A Shooting Set.