A new report has now emerged in the Sushant Singh Rajput case. Sushant's sister Neetu Singh, whom he fondly called Rani Di, knew about the actor's health. This is being said by showing a WhatsApp chat with Neetu Singh and late actor Sushant's business manager Shruti Modi. Neetu Singh and Shruti Modi's November 26, 2019 chat accessed by India Today is pointing to this which is contrary to Sushant's family's claim that they were not aware of his health condition.
Chat between Neetu Singh and Shruti Modi
Shruti Modi – Hi, Shruti here … I will be outside
Neetu Singh replied and wrote – Hi Shruti, please send me all Dr's prescriptions.
Shruti Modi – Yes, gimme few minutes, sending.
Neetu Singh – Also would like to meet the dr who can come to home.
Shruti Modi – Sure….
In the last message, Neetu asked Shruti at what time he (referring to the doctor's name) would be able to come? In response, Shruti said that she would find out and tell her. Shruti had also shared pictures of the prescription with Neetu. It contains medicines like Serta, Clonotril, Oleanz and Qutipin. Shruti also shared details to contact Dr. Susan Walker psychiatrist.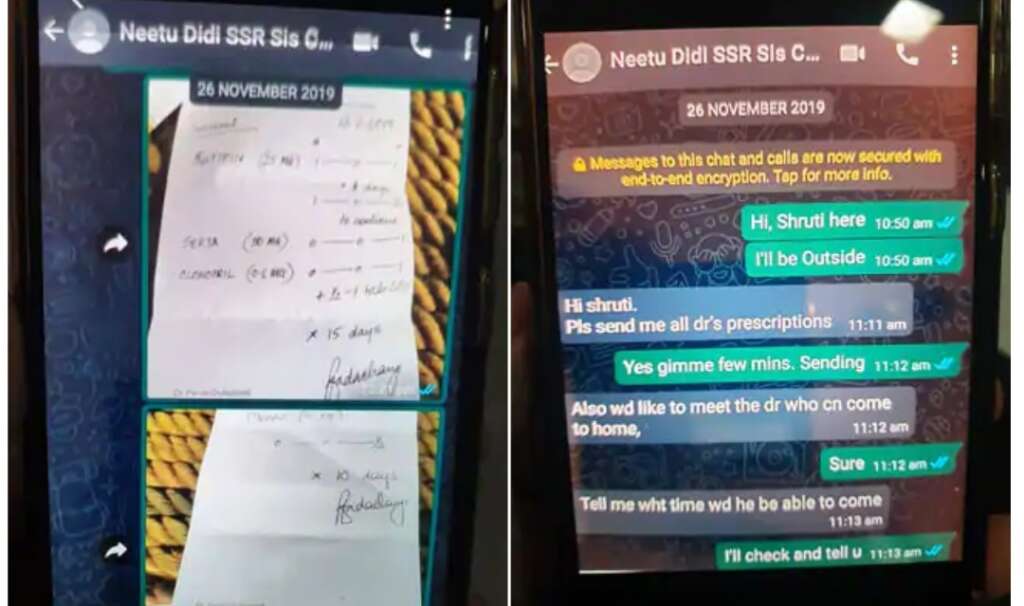 At the same time, if we talk about the investigation of this case, it is being told that the CBI can get Rhea Chakraborty's polygraph test done. Today along with Rhea, her brothers Shouvik Chakraborty and Siddharth Pithani have also been called for questioning. Everyone is being questioned in the DRDO guest house. The team of CBI is staying in this guest house after the drugs angle surfaced in the case, NCB is also investigating this case.