Eyebrow Stamp as the name suggests is a stamp that directly colors your eyebrow within seconds. This stamp is so quick that it works wonder in a few seconds. No more wasting time on coloring your eyebrow dark to make it look thick.
Fashion has now become a standard to measure beauty. If you have thick eyebrows you will spend time plucking it and if less then faking it. Either way, you will not be happy. A Just right measure of eyebrow hair is not enough, you need to have a perfect shape.
When it comes to beauty measures every girl wants to look beautiful. When a girl looks in the mirror she should feel confident seeing herself. So, there is exactly a time saving perfection-based eyebrow product for you.
So let's give you some details.
What is an Eyebrow Stamp?
A Stamp that colors your eyebrow dark and thick keeping in mind that it is in shape. Most importantly it stays whole day as it is a powdered stamp.
How does it actually work?
You have the sponge based stamp in shape of an eyebrow and the powder too. Just apply the powder on the stamp and you are ready to rock.
How long will it last?
It will last for the whole day and just take seconds to apply.
How to apply it?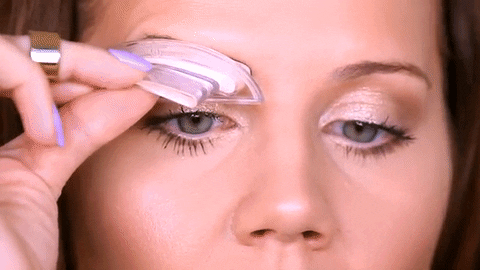 source: GIPHY
Is it worth your money?
Of course, just $8 and you have professional saloon type ready brows.
This is indeed an inexpensive way to shape your eyebrows like a professional in no time. So ladies what are you waiting for, just go and buy it. This is definitely going to be a trend setter so why not be the first one to buy it.
Now You Can Get the Latest Buzz On Your Phone! Download the PagalParrot Mobile App For Android