Tiktok is emerging as one of the best and popular platforms among the youngsters of India. The trend of tiktok was started by Indian celebs which later on became quite popular. Currently, there are more than 20 million active users in India. But among the numerous users, there is the list of most followed hot tiktok girls that you need to know about.
1. JANNAT ZUBAIR RAHMANI
Zubair is an Indian Television actress who is just 17 years old is one of the famous ticktock stars. Zubair has been seen in many Television serials and some films too. Jannat is the most popular Indian female Tik Tok user of 2019 in terms of the fan with 12.4m fan.
2. AVNEET KAUR
Avneet started her career with Dance India Dance Li'l Masters as a contestant. But today she has a huge number of fan following on ticktock. Kaur is an actress who made her acting debut with Meri Maa, playing the character Jhilmil. With 9.6m fans on Tik Tok Kaur became the 2nd most popular female Tik Tok user of 2019.
3. AASHIKA BHATIA
Aashika who has just turned 19 is an actress and social media celebrity who has won numerous hearts with her talent and acting. Bhatia also promotes many brands/pages through her Instagram account. Aashika is also one of the top female users of India on Instagram with 7.5 m fans following. Follow her on Instagram to see romantic and funny videos.
4. MRUNAL PANCHAL
Mrunal is a young and cute star of India. This 19 years old young talent usually post a bundle of photos and videos of makeup tips along with funny videos. Additionally, there are numerous lip sync videos made on her Tik Tok. Now all you need to do is to follow her on Instagram, who currently has 4.0 m fans.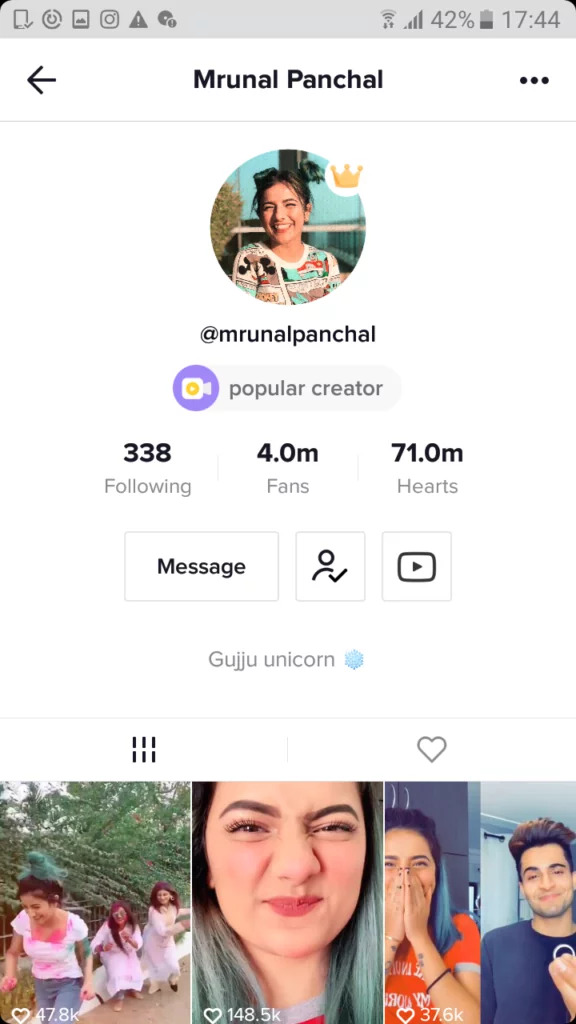 5. AHSAAS CHANNA
Ahsaas is a film actress who previously appeared in film Vaastu Shastra Kabhi Alvida Naa Kehna, My Friend Ganesha, Phoonk, etc as a child artist. Channa has the fan following with 3.5 m fans on her Instagram. Follow her to enjoy her entertaining videos on Tik Tok.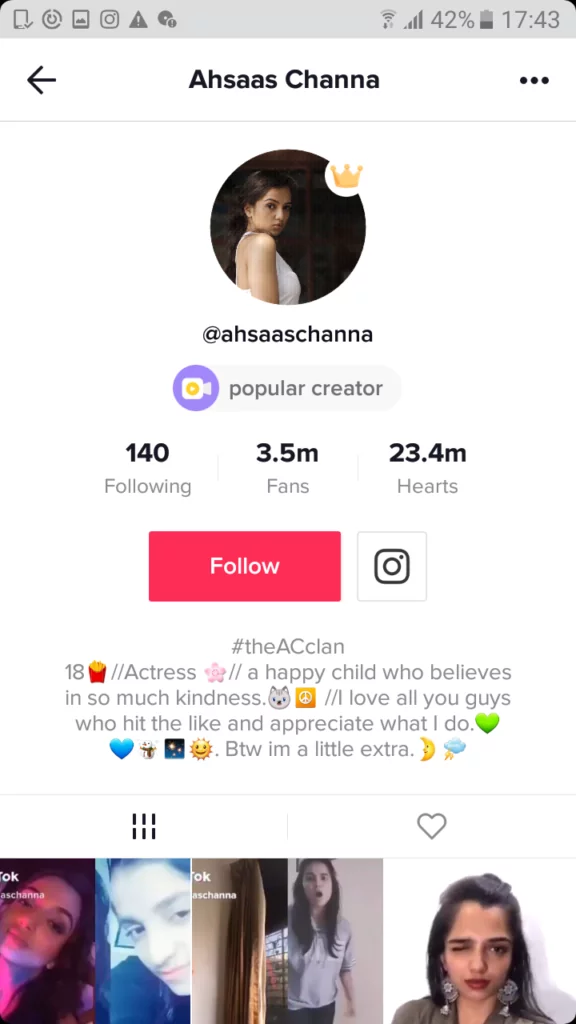 Also, read Shraddha Kapoor Trolls Varun Dhawan on His First Look in Upcoming Film Mr. Lele