'Luck' is not just a word, it is the eternal truth of every event that happens to people. That is why despite living in two different countries, different cultures and different environments, the two people who met because of that was their fate. Yes, we are talking about the love story of former Prime Minister of India and one of the most influential leaders, Rajiv Gandhi and his wife Sonia Gandhi, which very few people know about.
Love at first sight
This is such a love story, which became a part of politics forever in the history of India. The love story of Rajiv Gandhi and Sonia Gandhi is full of passion and love, let us tell you about the story of these veteran politicians.
Rajiv Gandhi studied at Cambridge University in London. It was a matter of time when Rajiv Gandhi saw a beautiful Italian girl sitting in a Greek restaurant in Cambridge and gave his heart to the girl on first sight. The Italian girl was none other than Sonia Gandhi, the future wife of Rajiv Gandhi. Rajiv Gandhi was a smart and jaggery looking man of his time. After seeing Sonia, he called the restaurant owner Charles Antony and asked to sit at the table near Sonia, for which Charles also took a huge amount from Rajiv.
Rajiv was so lost on seeing Sonia that day, that he immediately wrote a poem on a paper napkin and sent that paper napkin to Sonia by Charles with the best wine bottle. This was revealed in Simi Grewal's talk show.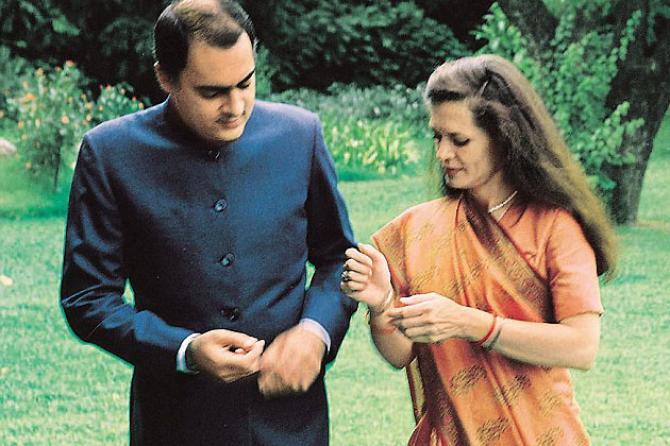 Rajiv told during an interview that, "The first time I saw Sonia, I knew that she was made for me. I found Sonia very simple and straight-forward, who never hides anything. . She is very settled and intelligent as a person. "
Rajiv Gandhi may be a common student in Cambridge. However, being the son of the Prime Minister of India, Indira Gandhi, was a very big truth in his life. Rajiv wrote a letter to his mother Indira, in which he also mentioned his love for Sonia. When Indira received the letter, she discussed it with her aunt Vijayalakshmi Pandit and after their consent she decided to meet the daughter-in-law.
As we all know it was the most talked love story in history. Rajiv then returned to India in 1967 without completing his engineering degree. Shortly after, when Sonia turned 21, she too decided to come to India. After returning from Cambridge, Rajiv Gandhi became a pilot and Sonia Gandhi was with the Bachchan family before the start of their marriage.
Indira Gandhi understood that both Rajiv and Sonia are quite serious about each other, so to avoid rumors and news of the waste, they decided to get married soon. Indira Gandhi got all the wedding preparations done under her own supervision and she also organized all the celebrations.
Rajiv and Sonia got engaged in late 1968 and their mehndi ceremony took place at Bachchan's house in Willingdon Crescent in New Delhi.
February 25, 1968 was the day when Sonia and Rajiv's love was to be together for seven lives. There was a large gathering of journalists outside the Prime Minister's residence. To get a glimpse of the ceremony, there was a gathering of journalists to capture him in his room. The garden behind the Prime Minister's House became a meeting place for the two hearts of Rajiv-Sonia. Many famous politicians, businessmen and celebrities attended this high-profile wedding ceremony.
Also read Story Of Actress Rashmi Gupta That How She Got Cheated In Love