Bollywood actor Siddharth Malhotra has motivated us all. So let's check out what exactly the actor shared on his social media account.
It seems like Bollywood actor Siddharth Malhotra is leaving no stone unturned, to work hard for this next Mission Mangal. As he recently gave her fans a glimpse of how is preparing for it. The actor was seen hanging himself upside down from a tree performing intense core and shoulder strengthening workouts on the sets of Mission Mangal. It was great to see him hanging as he equally motivated others to keep themselves fit.
He also took to his social media platform to share the picture of the same. And captioned it in a cheeky way writing " Lets Hanged Out". In the picture, we can clearly see him hanging upside down from a tree trunk using a gymnastic ring dressed up in grey athleisurewear. And no wonder his incredible exercise was worth watching. As he quite effortlessly inverted himself a little high from the ground.
Have a look at his post below: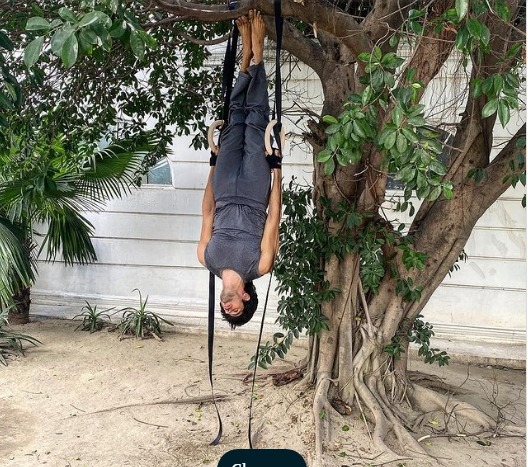 As we can see the actor hanging on gymnastic ring. Let us know what benefits it has. So the main benifit is that it strengthen spinal health and miantains flexibility. Improving blood circulation. And the fluid flow in the entire body. Resulting to healthier exchange of nutrients between cells and capillaries. But this excersice is not restricted to just this much benifit. It has loads of other benefits too. Such as impacting immune system, cardiovascular system, nervous and endocrine systems.
Now coming to the actor's work front he will soon be seen sharing the screen with Kiara Advani in the film Shershaah. In which they will be seen as leads.
Also,read After 'Bigg Boss', Rohit Shetty's 'Khatron Ke Khiladi 11' will feature 'Kanta Laga' Girl!