Today we will talk about a popular singer who gave songs to the film nearly for 6 decades. We are talking about Pakistani singer Noor Jehan who was born in British-India. It's been 18 years to Noorjahan's death. But shocking things about her still stays in the limelight. Born on September 21, 1920, Noorjahan's real name was Allah Rakhi Wasai. From 1930 to 1960 she won hearts with her magical voice.
She was awarded an honorific title of Malika-e-Tarannum in Pakistan. Noor Jehan's personal life always became the talk of the town. The type of blouses Noor Jehan used to wear were having deep necks. A portion of her waist also stayed visible. Wearing such clothes in that era of Pakistan was considered against the traditions so she often got criticized by the public for her choice of clothes. She was very hard working.
Her affairs grabbed all the attention. According to some reports, she had a long list of affairs. Some media reports claim that she had affairs with more than 16 men. Noor Jehan had many men in her life starting with her first affair at a young age with Hassan Amin, but broke up with him after falling in love with S.H. Rizvi. Noor Jehan was married more than twice, but it is not known whether this is true or not. If she was married more than twice, than one of her additional husbands would be Aqeel Butt. She has 6 children from her two marriages.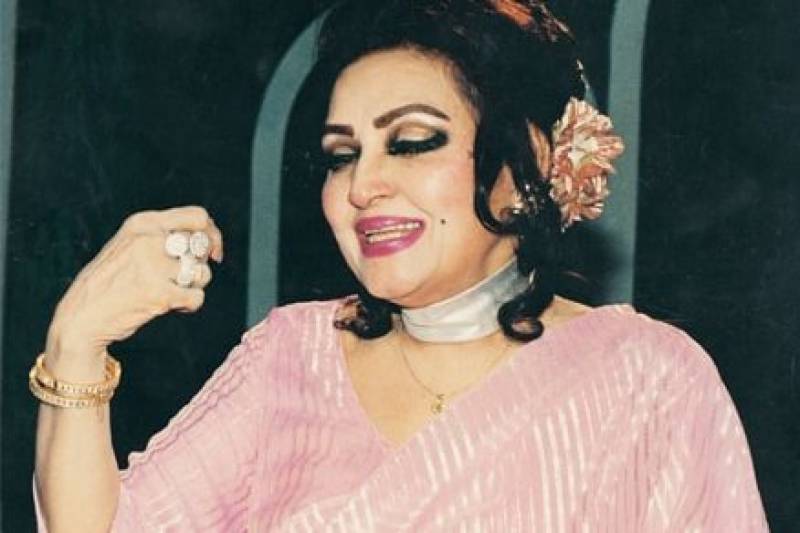 Noor Jehan's affair with debonair opening batsman Nazar Muhammad began during the filming of Chanwey (1951). It was Noor Jehan's extramarital affair with Nazar. One day, Noor Jehan's husband
Shaukat Hussain Rizvi's driver Amir Hasan told Rizvi that he had just dropped Noor Jehan at Islamia Park (somewhere in Pakistan). There she went to meet Nazar. Rizvi went with a carload of helpers to the house identified by the driver. It belonged to an old man who sold amulets and traditional medicines.
This old man was helping Noor Jehan to sustain her affair with Nazar. Rizvi pushed the man away and began to climb the stairs to the upper floor which only had one room. There he caught Noor Jehan all naked with Nazar on the bed. Nazar jumped out of bed and leapt out of the window to the ground and broke his arm after falling on it. Nazar was caught by Rizvi's helpers and he never played cricket again following his arm injury.